Who we are and what we love
For a second or two at every sunrise, you can see a flash of green light upon the sea. You can go your whole life watching sunrises and never see it.
At Of the Sea, we try to bottle up that green flash of inspiration and use it to create messaging for our clients that demands undivided attention and defies all expectation. If we do our job right, it creates valuable encounters and conversations that drive our clients to expand to their fullest potential.
We believe owner-operated businesses can expand to their full potential by aligning their advertising and culture through leadership and storytelling. We left the safety of the harbor in 2011 and are still discovering our own potential.
OUR VALUES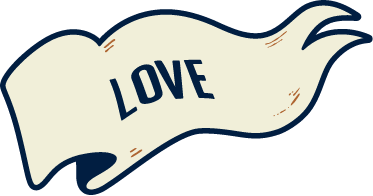 We love when everyone wins.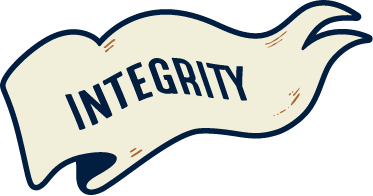 Speak the truth and act accordingly.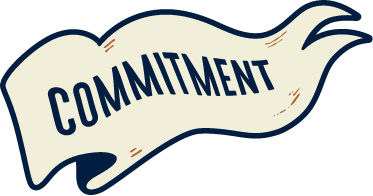 We are committed to each other and the future we are creating.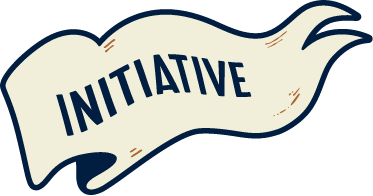 Leaders don't wait around for someone to give them permission.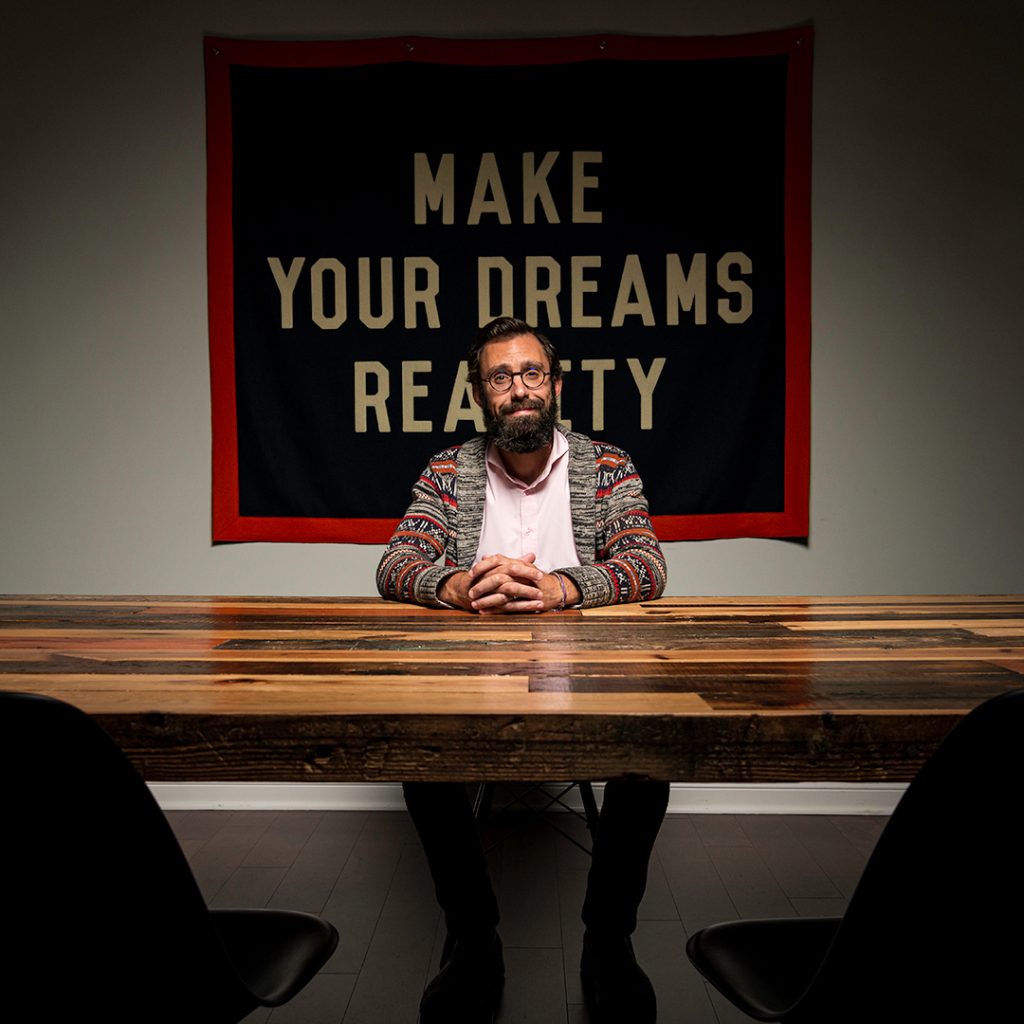 Erik Eustice
As Of the Sea's Marketing Captain, Erik loves leading our clients and our team to their full potential. Given our name and his title, Erik has a surprising distaste for nautical lingo. If Erik was kidnapped by interdimensional gremlins for some reason, no coffee would get made, our new projects would dry up, and our team and all our clients would be forced into the gentle, mind-numbing comfort of the status quo.
Erik has a recurring dream where he's an animal. Well, a part-tiger, part-freshwater aquarium fish, part-human mix. Like a merman or a sphinx or something, except which part is which depends on what his mood calls for.
People often ask Erik where he got the name "Of the Sea." That's easy. He named it after his wife, Meredith. He's not super into boats or whatever, but he's really into her. And their son and daughter. In fact, Erik would say that he's most happy when the family's happy.
Of course, there are things that don't make Erik smile. Like asking what his favorite thing is. Or implying that it's good to have a favorite thing. Or thinking that knowing what his favorite thing is tells you something meaningful. Or wasting people's time with long, pointless paragraphs.
Erik started Of the Sea's voyage in 2011. There have been plenty of storms and smooth sailing, but he's always enjoyed the adventure. Norman the money tree (named after Erik's late grandfather) has been good company as of late. It was a little touch and go with Norman at first. So we repotted him. He's looking good now. Really good.
Bailey Lekanka
Call Bailey what you like: Operations Lead, the oil that keeps things running smoothly, the "Beyoncé of spreadsheets," the "Patsy Cline of processes." If Bailey didn't keep the team rolling down the path of highly-optimized progress…we'd all quit as the gigastorm of payments, paperwork, processes, and compliance engulfed us.
But Bailey isn't just the conductor of our office orchestra. You might think if she was turned into an animal, she'd be a dog. 'Cause she loves dogs. Nah. Bailey would be one of those fun warm weather animals, like an orangutan or a lemur.
That's what Bailey likes best: warm weather. And fantastic food. Also, vacations. Provided they're in places with warm weather and fantastic food. Bailey's rather fond of her family too. Usually.
Bailey got hitched at the beginning of 2022 and greeted a new arrival to the Lekanka family just this spring. They say "no plan survives contact with the enemy," but they never met Bailey, who's still following hers to the letter.
Bailey has a pot full of assorted succulents on her desk that she renames often, usually after whoever annoyed her most recently. Right now several are named "motorists who have to slow down to get a good look at accident scenes in the middle of the highway."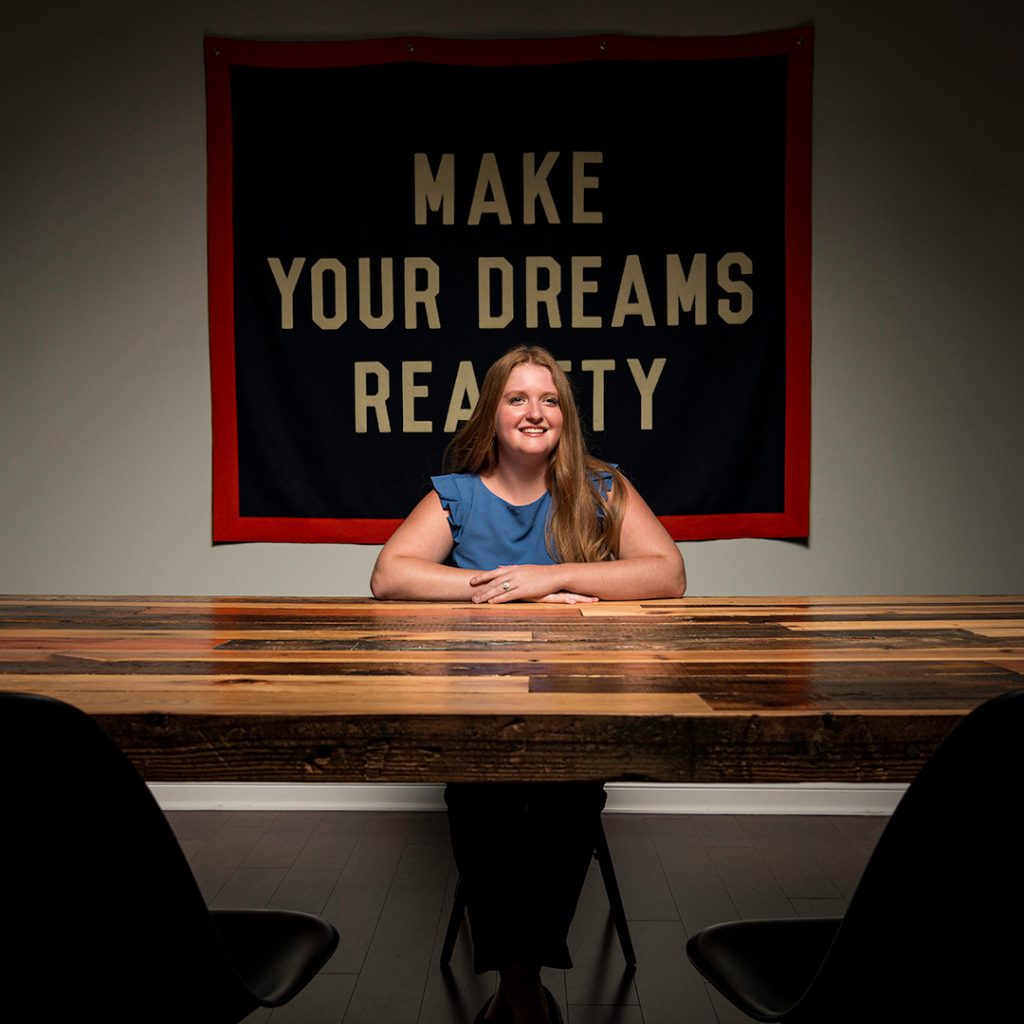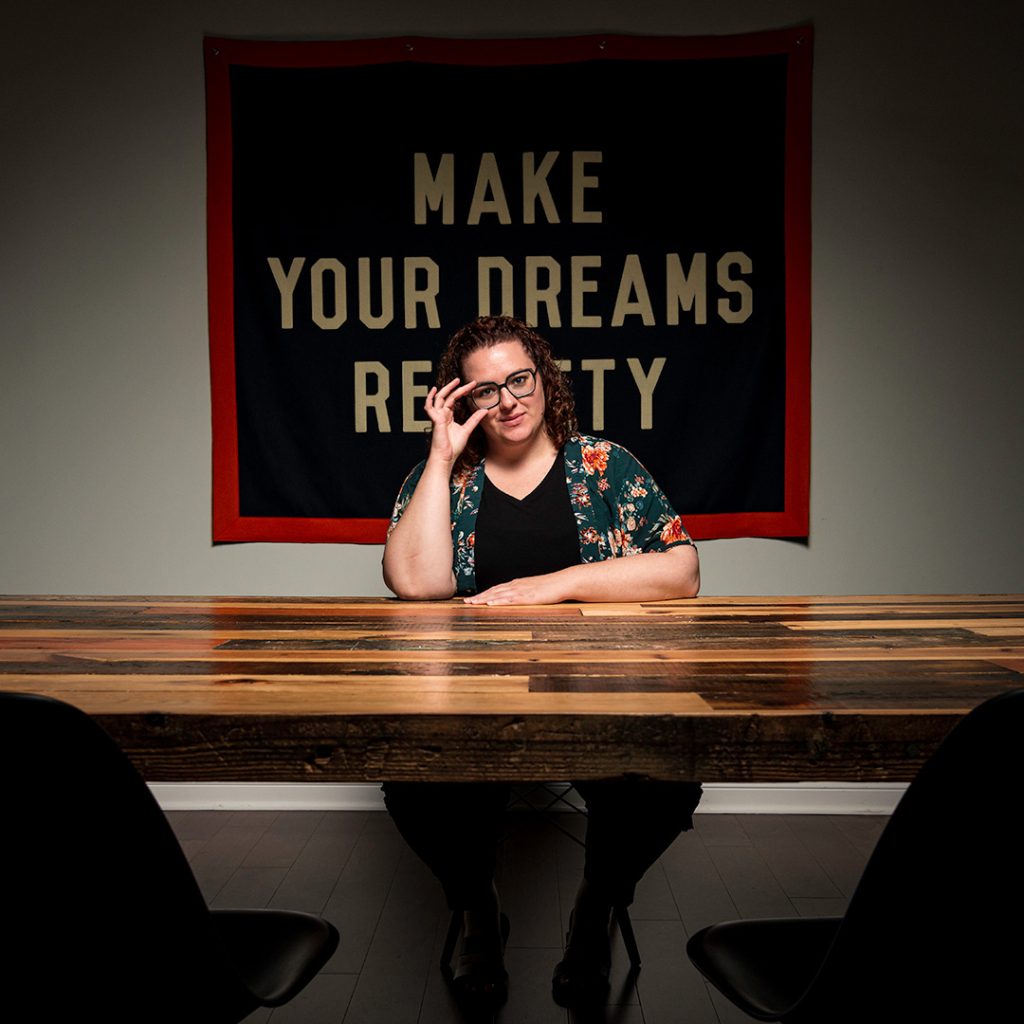 Joy Arcara
In the gritty trench warfare that is the modern office, Joy is the one you want by your side. She's Of the Sea's "Client Ally" and the glue that holds us and our clients together. Joy is either project managing with our team or communicating and coordinating with our clients. And if she doesn't? That's when #!$% does not happen. Or #!$% hits the fan. Either way, it's not pretty.
Despite highly scientific personality tests that say the opposite, Joy doesn't think of herself as an optimist. But then again, if she got reincarnated as an animal she would definitely choose to be an otter–the playful optimists of the animal world. But not just a regular otter. A land otter…that was eternally beloved on the internet.
Joy's a big fan of the aforementioned otters, as well as puppies, babies, and formula one racing legend Daniel Ricciardo. And chocolate, in cake-form or otherwise. She's also rather fond of her boyfriend (code-named "Destiny"). She is much less fond of people who coast into a red light from three blocks away.
Joy used to have Charlie the peace lily to keep her company at work. But the other plants kept teasing Charlie about having dead leaf tips. so Joy had to take him home. He seems to like it there.
Chris Ashbaugh
Chris is Of the Sea's Creative Executioner. If we are a ship, and that ship has a plank, Chris pushes words off of it, creatively. Really, he's a wordsmith and art director. You give him facts and figures and he cranks out whatever the ad equivalent of poetry is. If Chris stopped writing one day, our clients' ads would get really, really boring. Just like their competitors'.
If a witch threatened to turn him into an animal, Chris would ask to be the Muppet version of whatever. That way, people would still talk to him like normal and maybe he could break into show business.
Chris is the type of guy to casually drop references to 11th-century Anglo-Saxon poetry. Not because it makes him look cool (it doesn't). But because he genuinely likes it. He loved his wife so much he married her. They have a wild, thrill-seeking two-year-old who inspires at least half of what Chris writes.
In memory of his late grandpa Don, Chris named his desk plant Geraldo. Contrary to what the haters say, Geraldo does not have flies. And he's great company during early morning writing sessions. Chris maintains a lingering distaste for the collar-popping phenomenon of the early 2000s.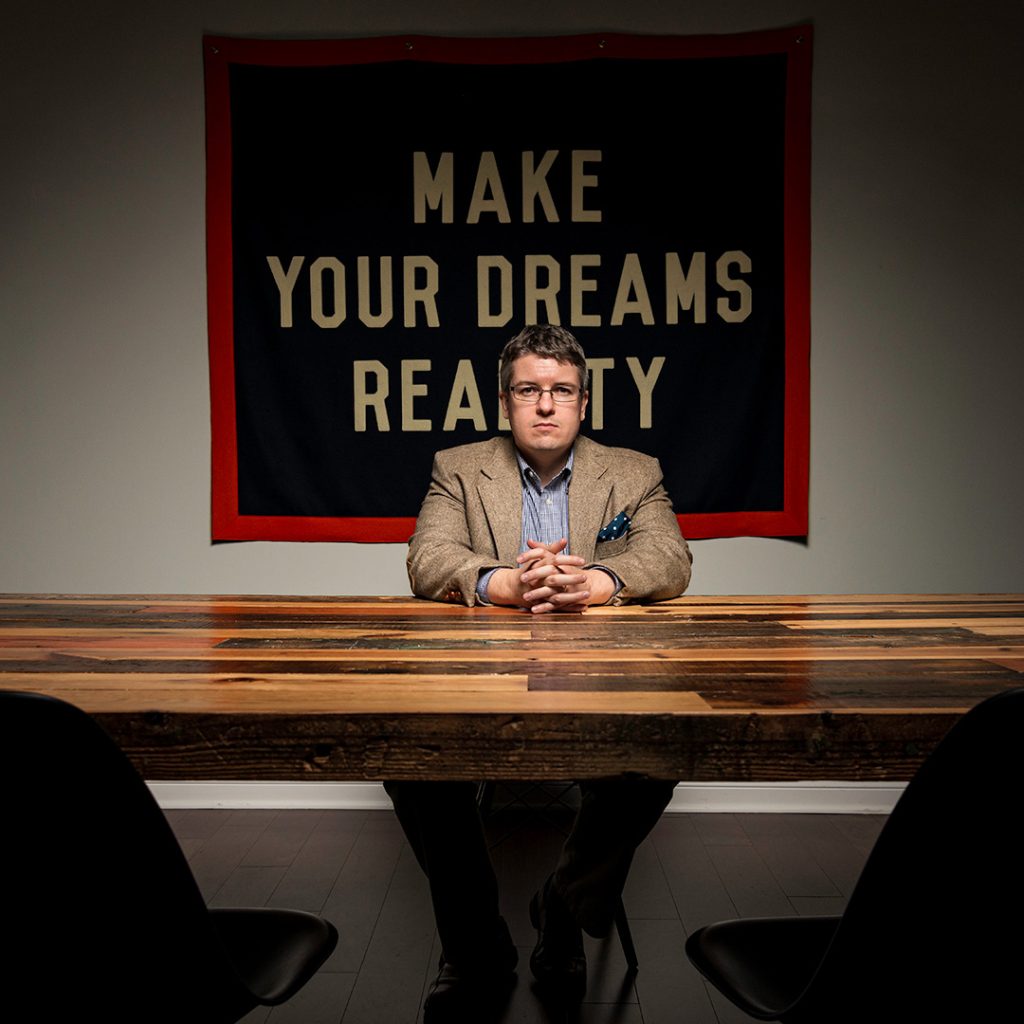 Everyone Deserves Clean Drinking Water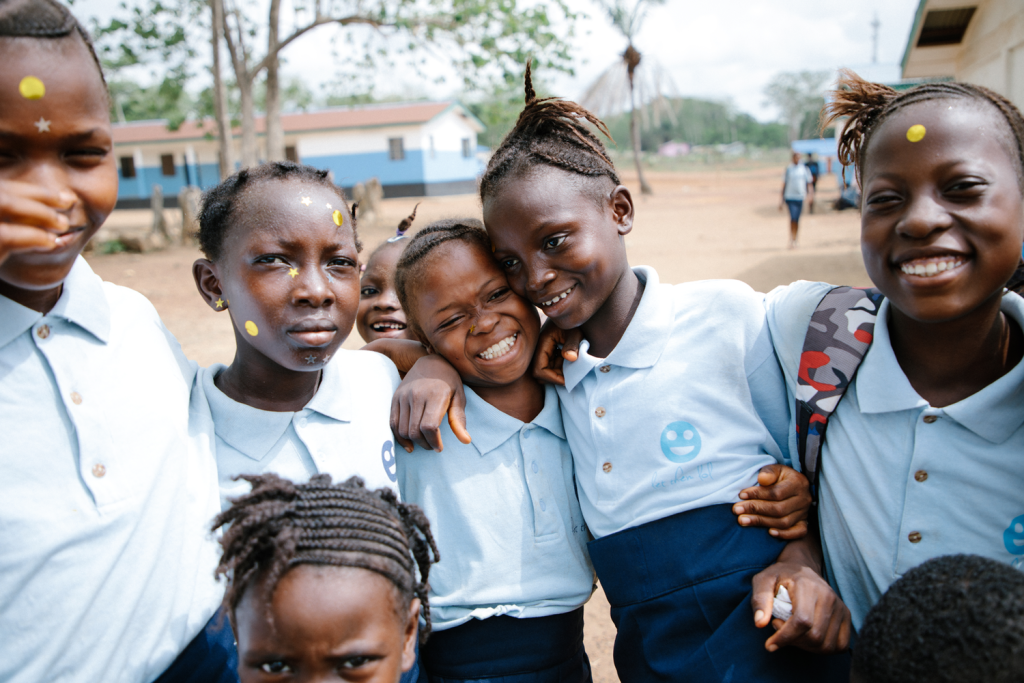 We are not only devoted to giving our time to our stellar clients, but we are devoted to investing in the greater good. Which is why we believe that everyone deserves clean drinking water and a solid education.
We help tackle this issue by partnering with the courageous people at Hope Rising Together. They aim to provide clean drinking water to communities without. They also have a school, medical clinic, and several homes for children. We believe in their commitment to empowering communities through sustainable development.